About Us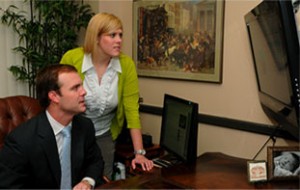 Given the volatility of Wall Street and the track record of large firms, it is hard to argue against the strength of the independent model. Fortier Financial is one of the most highly regarded wealth distribution specialty boutiques in the Gulf region. The name has become synonymous with professionalism and trust, which is why our exclusive clientele consists mainly of successful professionals seeking a high level of personalized advice. Despite our growth, we continue to deliver one of a kind customer service that addresses the needs of each client on an individual level. To maintain this key strength, we limit the number of new clients we take on and are selective when choosing who we serve based on criteria that extend beyond the size of portfolios.
Fortier Financial is independently owned and operated. We are powered by LPL Financial, which means we are a branch office of one of the nation's leading diversified financial services companies and the largest independent broker/dealer in the nation.* Through LPL Financial we are able to offer access to a wide variety of products and services, all of which can be tailored to suit your specific needs.
Mission and Point of View
The mission of Fortier Financial is simple – to assist our clients in realizing their dreams. Our values-based boutique firm is committed to the principle of "people first." The services we offer are goal oriented with an eye toward effecting positive change in the lives of our clients. We are devoted to removing the burden of financial insecurity and providing financial confidence. More broadly, we are dedicated to being leader-servants and taking an active role to better our community. Overall, our expertise, personalized customer service and unwavering level of professionalism give our clients what they need to pursue their future aspirations. These unique characteristics rank Fortier Financial as the best choice for residents of the Gulf Coast.
The Fortier Method
™
The world of finance is becoming increasingly complex. Staying ahead of the curve, anticipating trends and knowing when to stay the course are essential. The Fortier Method provides our clients with confidence, peace of mind and sound strategies tailored to meet their needs.
Fortier Financial integrates a wide range of products and services such as retirement planning, investing and insurance to develop your personalized strategy according to your GPS.
The Fortier Method™ is a holistic approach that relies on four strategic steps for effectively managing wealth and realizing life goals:
Step 1.) Establishing the Relationship
In order to maintain the level of service that we provide, we are selective in choosing who we serve. Not every potential client is a fit, and, as with any relationship, we believe the partnership should be entered into mutually. We carefully review each client application to ensure that we can meet their needs.
Step 2.) Creating Your Guiding Philosophy Statement™
After establishing the relationship, we begin with a consultation to assess your current financial situation and needs. Fortier Financial carefully crafted a questionnaire to identify key factors that will inform your GPS and help achieve your goals. Once an evaluation has been completed and your aspirations have been articulated in a GPS, the foundation has been set for a goal-oriented financial plan.
Step 3.) Developing the Plan
Your plan will be developed according to your particular situation, considering factors such as assets, cash flow, liabilities and insurance coverage. Based on these factors, Brad Fortier, a Certified Estate Planner™ and CERTIFIED FINANCIAL PLANNER™ practitioner, will present a list of recommendations. At this time, a mutual understanding of the benefits and risks associated with each recommendation will be discussed and adjustments may be made to ensure that you are receiving the precise services you desire.
Step 4.) Implementing & Monitoring Your Plan
Once an agreement has been made, the Fortier Financial team will enter the final phase of the Fortier Method™ by implementing and monitoring your financial plan. Throughout the process your plan and financial needs will regularly be assessed to ensure alignment with your GPS.
*As reported in Financial Planning magazine 1996-2009, based on total revenues.