The Invest in Others Charitable Foundation honored Brad Fortier in April for his contribution in support of community-based humanitarian efforts.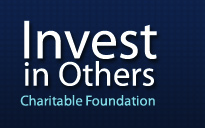 Established in 2006, the Invest in Others Charitable Foundation encourages the philanthropic and volunteer activities of financial advisors in their local communities. By partnering with individuals and organizations in the financial services industry, Invest in Others has provided vital financial assistance to nonprofit agencies supporting a broad range of important humanitarian causes, including education, housing, medical research, after-school programs, violence prevention, and many more.
In lieu of a plaque recognizing the accomplishment, Brad requested that an additional donation be made to the charitable organization in his name.