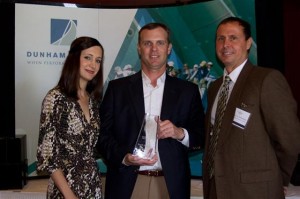 SAN DIEGO, CA – May 5, 2010 –Brad Fortier, CFP®, president of Fortier Financial, was presented the Charlie Eisenmann Client First Award by Dunham & Associates Investment Counsel, Inc. during a ceremony today.
The national award is given annually to the investment professional who works with clients in a manner that best exemplifies Charlie Eisenmann's client first philosophy. Mr. Eisenmann, the former Chief Operating Officer of Dunham & Associates, died in March 2007 after battling cancer.
Mr. Fortier received the award for his dedication to his clients in the wake of Hurricane Katrina. He set up a temporary office in his home to help clients through the crisis and went well beyond what would have been professionally expected to assist in many other areas of their lives.
Jeffrey A. Dunham, founder and CEO of Dunham & Associates Investment Counsel, Inc., presented the award during the 2010 Dunham Institute at the Lodge at Torrey Pines in La Jolla, California. Mr. Fortier is an independent Financial Advisor with LPL Financial in the Greater New Orleans Area and was chosen by the Dunham & Associates award selection committee.
The event's keynote address was made by Nobel Laureate in Economics Dr. Harry Markowitz.
"Brad Fortier represents a client first attitude that is both unwavering and focused on his clients' needs," said Jeffrey A. Dunham. "Like Charlie, Brad demonstrates the noble pursuit of genuine service to his clients. This was magnified when confronted with Hurricane Katrina but is also evident when working with his clients in the more normal circumstances of everyday life."
Brad is also a prominant community leader in the recovery of New Orleans. He served as the president of the Lakeview Civic Improvement Association, the director of capital development for the Beacon of Hope Resource Center, the chairman of the Finance Committee for the District 5 Neighborhood Recovery Group, and on the District A President's Council, which was established to advise on the city's budget process.
"We received many deserving nominations from around the country, which made our selection challenging," noted Salvatore M. Capizzi, Chief Sales & Marketing Officer of Dunham & Associates Investment Counsel Inc. "In the end, we felt Brad's exemplary client first service philosophy and his dedication to community service are the attributes that would best carry on Charlie Eisenmann's legacy. We are honored to recognize Brad for this year's award."
"I am honored to accept this award for client service, which is at the center of my business philosophy," said Fortier. "Financial planning is a means to an end. Helping my clients realize their dreams is really what I do; it's what drives me. That is why I take a holistic approach to finance that extends far beyond a person's portfolio to really get at the heart of what they want to achieve."
About Fortier Financial
Fortier Financial is one of the most highly regarded wealth management specialty boutiques in the Gulf region. The name has become synonymous with professionalism and trust, which is why Fortier Financial's exclusive clientele consists mainly of successful professionals seeking a high level of personalized advice. Despite the firm's growth, it continues to deliver one of a kind customer service that addresses the needs of each client on an individual level. To maintain this key strength, Fortier Financial limits the number of new clients taken on and is selective when choosing who it serves based on criteria that extend beyond the size of portfolios.
Fortier Financial is independently owned and operated. It is a branch office of one of the nation's leading diversified financial services companies and the largest independent broker/dealer in the nation.* Through LPL Financial, Fortier Financial is able to offer access to a wide variety of products and services, all of which can be tailored to suit clients' specific needs.
*As reported in Financial Planning magazine 1996-2009, based on total revenues.
Securities and Advisory services offered through LPL Financial, a Registered Investment Advisor, Member FINRA/SIPC